The X40 is a large dual extruder 3D printer manufactured by WEEDO. WEEDO is a 3D printer manufacturer based in China and uses extrusion 3D printing technology. This large desktop 3D printer offers a build volume of 300 x 300 x 400 mm. In short, WEEDO X40 Independent Dual Extruder 3D Printer that rivals the best for less. In addition, go from packaging to printing in minutes with two robust pre-assembled components.
What differs WEEDO X40 from others?
Both beginners and advanced users will appreciate WEEDO's ready-to-go philosophy. This means that with two rugged, pre-assembled components, you can go from packaging to printing in minutes. You won't have to worry about connections, as the X40 comes with fully pre-assembled cables, eliminating time and guesswork.
The cost of introducing new technologies hinders their adoption. Technology is constantly improving itself, producing new products and tools that improve efficiency and reduce costs. WEEDO found the standard price of $2,000 for an IDEX printer far too high and decided to do something about it. WEEDO X40 offers everything a $2,000 machine can do for a third of the price.
You can learn from it along with a decent price range, WEEDO X40 offers quite a few extraordinary features. The WEEDO X40 is equipped with powerful features that improve the printing process, such as WIFI, video print monitoring on the go, and a built-in program for automatically calibrating your printers' extruders.
Features of WEEDO X40
1. Startup Self-Detection
This smart printer activates the self-detection function at startup. It detects the status of the extruder heater, the platform heater, and the XYZ operation of the printer so that the device knows it is working and can identify when something is not working properly. However, you activate this feature only when you want to, because it is turned on and off manually.
2. Auto-shutdown after printing
Do you need to get away quickly? No problem! The WEEDOX40 3D Printer automatically shuts off when printing is complete or after a standby timeout. This power-saving automatic shutdown feature adds a crucial layer of extra safety. WEEDO also added essential quality of life features, such as resuming prints after power outages. Don't let the frustration of sudden power outages stop your progress. When power is restored, printing resumes where it left off.
3. Monitoring over LAN
The built-in camera module on the X40 lets you monitor your printer while you're away. You can also launch prints over LAN with CURA and Wiibuilder slicer integrations.
4. App controls and social media integration
The WEEDO X40 app brings ease of use to the forefront by allowing you to control the printer via your mobile device. If you use a social media profile (such as Facebook) to sign in to the app, you can receive notifications from your social account when prints are completed.
5. Independent Dual-Extruders
WEEDO's Independent Dual Extruder (IDEX) print heads allow you to quickly print with two colors and/or different materials. This robust printing system increases your ability to create complex geometries and new combinations of materials in an infinite variety. The WEEDO X40 does more, allowing you to create higher quality prints faster than other single extruder machines.
6. Automatic leveling for more accuracy
The X40 automatically levels the bed for each print to ensure a perfect first layer every time you press 'print'. WEEDO went further in implementing leveling algorithm by optimizing the process for special IDEX-specific modes such as copy and mirror mode. Their bilinear automatic leveling ensures that you get consistent, successful prints from both printheads when you produce multiples of parts using copy and mirror mode.
7. Filament runout detection
Whether it's brittle filament accidentally breaking before it reaches the print head or a roll that's at the end before the print is complete, you're always covered with the X40. Two filament runout sensors detect missing filament on either extruder and will suspend printing activity until the roll is replaced.
8. Multi-print modes
Discover the X40's four unique print modes: two-color printing, water solvent mode, duplicate printing, and mirror printing. With each cut file, model size and coordinate parameters are added to the GCODE file to print mirrors or duplicates at will.
9. Multi-language support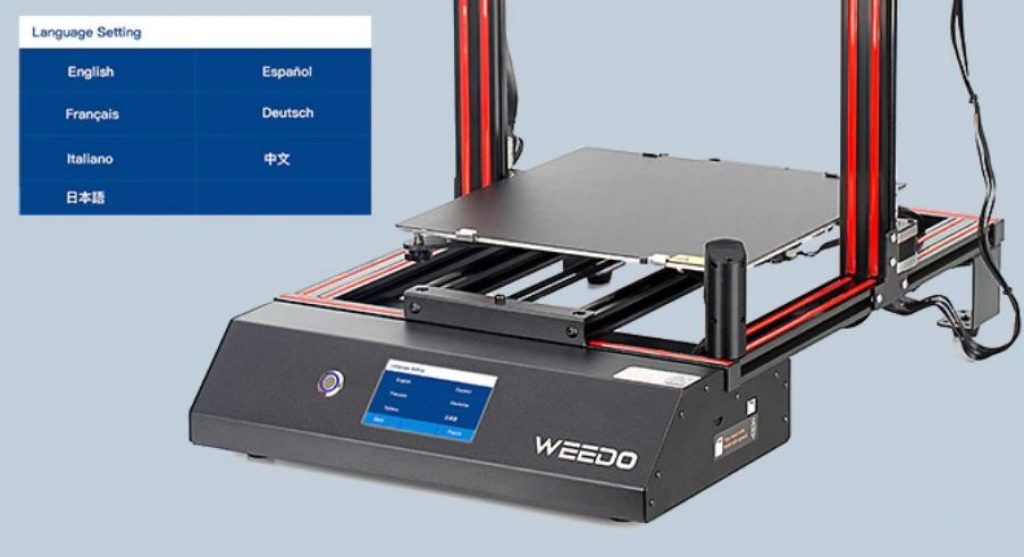 The X40's user interface is user-friendly and features a multilingual interface. The printer currently supports the following languages: English, French, Italian, Spanish, German, Japanese, and Chinese. Simply select the language of your choice in the interface after the first startup.
Price of WEEDO X40
The WEEDO X40 will cost you around anywhere between $400 to $500, depending on the region or country you are in.
Final words
I appreciate how easy the printer is to maintain and change filament. The bed leveling buttons are well placed and easy to make fine adjustments for leveling. And the prints that come off are spectacular and smooth. Not everyone starting in 3D printing is trying to push boundaries like I am, but this is a printer that can help you do that!